As he travels to Paris, Hwang Sun-hong declares, "I'm here to prove I'm ready…I'm going to win."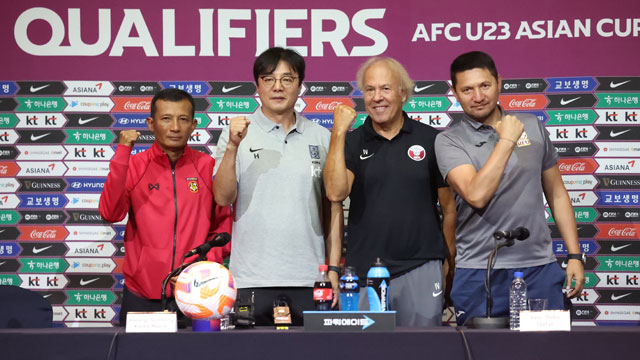 South Korea's U-22 national team head coach Hwang Sun-hong is determined to prove his team's preparation for the Paris 2024 Olympic Games.
"As we are playing at home, we are preparing to not only qualify, but to play well and win every time," Hwang said at the Asian Football Confederation (AFC) U-23 Asian Cup qualifying press conference held at the Grand Mercure Ambassador Hotel in Changwon, Gyeongnam, on Friday.
Hwang's U-22s will compete in the AFC U-23 Asian Cup Qualifier at the Changwon Football Center from June 6-12.
The tournament will be the first qualifier for the Paris Olympics as the team will need to qualify for the AFC U-23 Asian Cup in Qatar next April, which is the final Asian qualifier for the Paris Olympics.
A total of 16 teams will qualify for the U-23 Asian Cup, including the top four teams from each of the 11 qualifying groups, as well as hosts Qatar.
Korea will face Qatar, Kyrgyzstan and Myanmar in Group B. The result of the first match on June 6 at 8 p.m. will not affect the group standings as the hosts have already qualified.
"Qatar is the home team of the U-23 Asian Cup, so we are wary of them because they are preparing for the tournament for a long time," said Hwang. "Tomorrow's game is also a chance to see the level of football in the Middle East."
"Right now, we're in the process of building our competitiveness for the U-23 Asian Cup, and I think this game against Qatar will give us a chance to test that, and I hope both teams will put up a good fight."
"We had a lot of age-group players at the Hangzhou Asian Games, and we had some challenges with transfers and injuries, but with the help of our K League team managers, we were able to select players from our talent pool," he added. "We weren't at 100%, but that's no excuse for the result. Tomorrow, we have something to prove."
"I've only been in charge of the team for a short time, so we've had little time to prepare, but on a personal level, it's a chance to get to know the players," said Qatar head coach Ilidiu Baller. "Our determination to win tomorrow's match is unparalleled, and we'll test a lot of things in terms of individual and team organization."
After Qatar, South Korea will face Kyrgyzstan on Sept. 9 and Myanmar on Sept. 12.
Kyrgyzstan head coach Anarbek Ormombekov, whose team will face Myanmar on June 6 at 4 p.m., said, "The two-week training camp went well. It was difficult to adapt to the weather, but it's good now," he said, expressing confidence.
Myanmar's head coach Aung Naing said, 카지노사이트넷 "We had a short time to prepare, but we are well prepared as we participated in the regional tournament before and gained experience," and is determined to win.