Shin Yu-bin (Korean Air), who won the gold medal in table tennis women's doubles at the 2022 Hangzhou Asian Games
will immediately move to participate in the next competition instead of returning home.
Shin Yu-bin, who worked with Jeon Ji-hee (Mirae Asset Securities), defeated North Korea's Cha Soo-young and Park Soo-kyung in the table tennis women's doubles finals held at the Gungsu Canal Sports Park Gymnasium in Hangzhou
China on the 2nd with a match score of 4-1 (11-6 11-4 10- 12 12-10 11-3) and won the championship.
With this, Shin Yu-bin and Jeon Ji-hee became the first players to win a gold medal in women's doubles in 21 years since Seok Eun-mi and Lee Eun-sil at the 2002 Busan Asian Games.
Many fans are waiting for Shin Yu-bin's golden return for her valuable achievements, but key players of the table tennis team
including Shin Yu-bin, are not returning to Korea even though the Asian Games schedule has been completed. 지울프-토토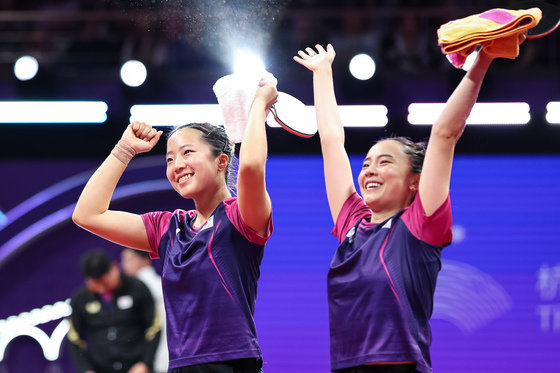 Instead, he will go straight to Wenzhou in China to participate in the World Table Tennis Federation (WTT) contender.
Some players, such as Seo Hyo-won (Korea Racing Association), are scheduled to return home after the Wenzhou race after the 8th, but Shin Yu-bin and Jeon Ji-hee will participate in the Muscat Contender held in Oman from the 8th to the 14th and the Antalya Contender held in Turkye from the 16th to the 22nd. After competing in a row, he will return home on the 24th.
An official from the Korea Table Tennis Association explained, "We plan to maintain a sense of real-world competition through long-term overseas expeditions while also raising our world rankings to lay a solid foundation for the World Table Tennis Championships to be held in Busan in February next year."
The Asian Games table tennis team coaching staff, including table tennis team leader Lim Young-gyu, Joo Se-hyuk, and Oh Gwang-hyun, men's and women's national team coaches, as well as Jang Woo-jin (Mirae Asset Securities) and Park Kang-hyeon (Korea Water Resources Corporation), who are not competing, will return to Korea at 6:10 pm on the 3rd.